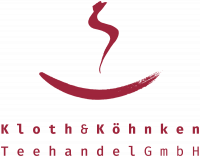 Kloth & Köhnken Teehandel GmbH
Konsul-Smidt-Straße 8J
28217 Bremen-Europahafen
Germany
P +49 (0)421 34 852 50
F +49 (0)421 34 777 20
All that is tea.
All that is Kloth & Köhnken.
Would your project benefit from the assistance of our qualified tea experts? Then contact us. We would be happy to advise you.
Complaint / Grievance / Objections

Kloth & Köhnken Teehandel GmbH respects the environment and the human rights of people who are affected by our business activities, our business relationships and our products. It is therefore of our highest interest to learn without delay about complaints from concerned groups of any kind. Every constructive hint contributes significantly to improving our business processes. If you believe that you or any other person who is associated to Kloth & Köhnken directly or to a business partner of Kloth & Köhnken has suffered in any possible way (ethical, moral, human rights) please contact us immediately. Likewise with concerns, risks and violations regarding the environment.
All concerns, especially personal data, are of course treated confidentially and in compliance with the anonymity criteria. You can contact us either at 'grievance@kktee.de' or directly with the catchword 'grievance' at Kloth & Köhnken Teehandel GmbH, Konsul-Smidt-Straße 8J, 28217 Bremen-Europahafen, Germany
Every complaint is registered immediately and further action is installed. Everybody involved will be informed about the procedures and the resulting measures (if data are available). Measures taken are checked for their effectiveness within a specific time frame. Suggested solutions are gladly accepted in order to be able to take corrective measures quickly.
Your complaint should not include sensitive information about any individual person, unless it is necessary to illustrate your complaint.
If we still need important personal data from you that are necessary to clarify the complaint, we reserve the right to carry out investigations.